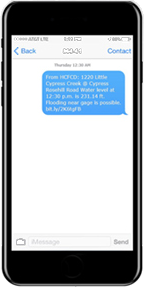 Rainfall and Stream Level Alerts
The regional Flood Warning System measures rainfall and monitors water levels in bayous, creeks, and rivers on a real-time basis to inform area residents of potential flooding conditions. This system relies on a network of gage stations that have been strategically placed throughout Harris and surrounding counties.
Alert notifications are available at over 250 locations across the region.
Sign up for default alerts or create custom alerts to receive real-time rainfall and stream level alerts by email and/or text message.